2018: The Year of … Love & New Things!
5 years ago
Happy almost-February to everyone. This weekend I decided was going to have a little bit of craft time. Period. That's not to say that I haven't been doing anything over the last several weeks. Last weekend was spent with the gals for our annual scrapbooking retreat – we had a lot of fun and a bit of snow. However, sometimes it's nice to tuck into my craft room with really no plan whatsoever and play with paint, texture paste, and stencils.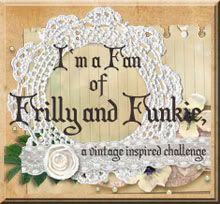 When I started on this project for the Frilly & Funkie challenge, I knew that my word was "love." It's really not a resolution or a goal but something that over the next year I need to remind myself of when the trials and tribulations make for difficult days. As always the challenge is sponsored by the Funkie Junkie Boutique. I also decided when I was done with my project that I fit the theme for the Mixed Media Monthly Challenge – #44 Ring in the New. My first submission to MMMC.
2018 is going to be a busy year for me. It will be a very demanding year at work and my beloved knows this and does whatever he can to support me. Whether it's the phone call to him that tells him I need another hour or so (and it turns into 2 or 3 hours and don't eat dinner until 9 p.m.), that I have to set the alarm clock at some ungodly hour to get ready for the day's work, or that we will have to cancel our spring vacation because of my work schedule, he's always there for me. He's the smile and kiss at the beginning of the day, my cheering squad during the day, and my comfort at the end of the day. Even this weekend he knew I just needed to work on something creative and with a smile on his face and a cup of tea for me in his hand, I was directed toward my craft room. This year, however, is also our 20th wedding anniversary – two whole decades!! That's not something you hear very often these days and hopefully we have many more decades to go! So, for me, 2018 will be a year of love.
So, I had my word but then what? I started off by making a whole bunch of paper clay pieces with my IOD molds. Because the paper clay dries out so quickly here (no matter how well I wrap it or how many layers I used to wrap it our dry climate doesn't help), I have to use the whole darn thing in one go. But, as those pieces were drying I went rogue and started playing around with crackle paint and texture paste as well as my recently purchased, brand spanking new Impasto Paints and a new (for me) Prima stencil.
I grabbed a canvas and the Prima Finnabair Art Extravagance Texture Paste (Graphite) and a Prima Stencil (#564278). I love stencils and while this stencil is probably one everyone already has, Santa Claus left it in my stocking along with a brand new palette knife and the Graphite Texture Paste was wrapped up under the tree! Yes, Santa was good to me this year because I got lots of crafty goodies. Once the texture paste dried, I added some Prima Finnabair Art Extravagance White Crackle Texture Paste reminding myself to put it on thick (but not too thick) to get good cracking. While the White Crackle was cracking and drying, I pulled out a Memory Hardware Fleur Coeur Frame and the Finnabair Impasto Paints. Full disclosure – this was the first time I used my Impasto Paints – I know that's horrifying since they came out "several months ago" but some of us are just slower than others! I grabbed Raspberry Pink, Crimson, and Heather.
On the resin heart, I used Crimson and watered it down for a consistency like watercolor paints. I also added some Art Alchemy Acrylic Paint (Metallique – Pink Blush) for shine and depth to the flowers on the heart. Some of the edges of the roses were brushed with Art Alchemy Metallique Wax (Rich Copper).
I decided to paint a Southern Trading Post chipboard swirl (cut in two pieces) with Art Alchemy Acrylic Paint (Metallique – Silver Spoon) and placed it at the diagonal. Penciling in a faint outline of the inside of the heart on the canvas, I added Mini Art Stones and Art Stones for texture between the swirls of the chipboard. Slowly, I'm getting a bit better at getting those art stones where I want them! I used the Impasto Paints (Heather and Pink Raspberry) to color the inside area of the heart as well as around some the crackled areas in the background. I used a baby wipe to clean up some areas that had too much paint or areas that needed to be spread a bit more.
I finished off the design with some Mulberry Flowers (Tea Roses in purple) and I used leftover watered-down Impasto Paint (Heather) to color the cosmos/daisy flowers. Prima Mechanicals (Winter Trinkets) added some additional texture and depth around the flowers as well as some tin hearts (the hearts were covered in Art Basics White Gesso and then painted with Art Alchemy Sparks paint in Butterfly Spells (another first time using that!) and Iris Potion). The last thing added was "Love" which was painted in Sparks paint (Iris Potion).
I hope you enjoy my project as much I enjoyed making it. I played around with some textures and paints that I don't normally use or were brand new to me, so it was good to experiment too! I guess I'll have bunch of paper clay pieces to use for other projects…
I hope everyone has a safe, lovely week.
Loading links to posts on similar topics...